Mary Queen of Scots
1542-1587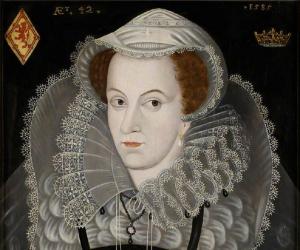 Princess Mary was only six days old when she became Queen of Scotland on the sudden death of her father, James V. Her French Mother arranged for the young Queen to be brought up in France where she met and married the future King of France, Francis II. Sadly, he too died suddenly and in 1561, at the age of 18, the young widow of France returned to Scotland, the land of her birth.
At first, Mary prospered in the turmoil of 16th century Scottish politics, but, gradually, her youth, her sex, French sophistication and her Catholic faith began to count against her. In 1567, disloyal Scottish nobles imprisoned her in Lochleven Castle in Kinross and forced her to abdicate the Scottish throne in favour of her young son, James, whom she never saw again.
In 1568, she escaped from Kinross and fled to England to seek sanctuary and support from Queen Elizabeth I, her cousin.
After 19 years of "castle arrest", she was eventually tried, convicted and beheaded for treason in 1587. Sixteen years later, in 1603 James VI of Scotland became James I of England to unite both Kingdoms under one Crown. James quickly ordered that his mother should be buried in Westminster Abbey, close to the resting place of Elizabeth I, the cousin she never met.